Human Performance Initiatives
Human performance strategies are the building blocks for an enterprise-wide solution to improve your workforce and workflow.
The Human Performance Program (HuP) works in harmony with safety based programs and manual.  As defined in the HuP Handbook, "positive control" includes safe and productive work to complete the work task and activities.
Products and features below are proven to impact performance with indirect impact on your profit and loss.
Program Manual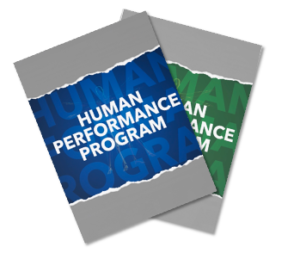 A critical component of achieving an organizational vision is the careful development, implementation, and maintenance of their Human Performance Program and Procedures.
Utilize your own subject matter experts to define a customized Human Performance Handbook providing an overview of the elements of the human performance best practices specific to your organizations tasks enterprise-wide.
In addition, this program identifies human error prevention tools currently practiced within high performing organization.
Skill Assessments
An objective benchmark with a step by step development plan.
Emotional Intelligence (25 skills), Management Profile (10 functions) and Personality Styles (DISC) are all fundamental strategies for personal performance and leadership effectiveness.
These assessments add immediate and long term value to career mapping and development tracks for employees "worthy" of investing into –
Best practice strategies support frontline management and supervisory positions.
Video Learning Aides
Targeting critical attitudes, beliefs and actions that reflect Sr. Management's views, values and processes.  We visually show "what good looks like" from a new visual perspective when dealing with your specific behavioral key performance indicators .
Custom video learning aides featuring your own Rockstars – those respected in the field that posses technical skills and abilities, as well as emotional intelligence skills and abilities – practicing human performance tools and initiatives.
Using sound instructional design principles we are able to develop visual learning aides that specific address your organization values and latent organizational weaknesses.