Emotional Intelligence Training and Content Provider
Classroom workshops and training content uniquely customized for line worker personalities; emotional intelligence skill development for personal performance, team-unity and leadership influence.  Most applicable for problem solving, adapting to change and conflict resolution.
EQ Management Profile
A frontline management assessment of the Top 10 Management Functions.  An online questionnaire with custom report evaluating each category; used for developing career training tracks for long term employee-engagement.
EQ Content Development
There is a new technical skill set and competency model that improves performance in the field, and leadership abilities among frontline managers; our subject matter experts can work with your training team to implement innovative brain training techniques, building individual and team EQ competencies.
Learning Aids:
Easy to understand models and simple application strategies to developing critical thinking skills.  Our proprietary models offer personal performance strategies as well as intervention steps for management teams and crew leaders.
Case Studies: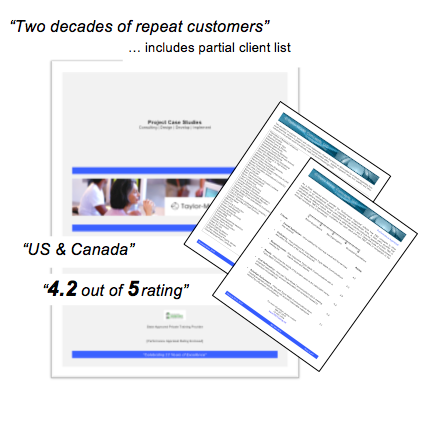 Over two (2) decades of serving clients by developing their people. We've worked with a very diverse group of skills and talent across many different work environments and cultures. Serving the U.S. and Canada in the public and private sector our industry experience expands from Oil & Gas, Electric Utility, Law Enforcement and Sports and Athletics. TMC_Case Studies
Industry Stakeholder:
Product: Tactical EQ4 Electric Utilities
Live Video Segments: Learning Aids | Leader Lessons | Master Trainer
"EQ is the new technical skill-set for front line managers."
Parrish O. Taylor
Master Trainer | Designer
What Others Are Saying:
Actual Course Evaluations (Click Here) – from 30 year veterans to new members of the workforce; from engineers and project managers to line technicians.
The Product:
Tactical EQ4 Electric Utilities develops mental skills and competencies most often found in top performers; supported by the science of emotional intelligence.  Distraction training, concentration skill and Navy Seals brain training are all featured in this six (6) hour basic level class.
The Master Trainer:
As a practitioner in emotional intelligence, Parrish has invested his entire life perfecting his craft, his presentation and his message.  Taking complex topics and using his unique communication style and personality to re-enforce critical learning objectives — enhanced learning and long-term applications.
Our Master Trainer
We share 'em, Parrish's unique presentation style engages learning
Best applications to his skills are to train your frontline management teams & crew leaders
Emotional Quotient Subject Matter Expert
Our Founder & Master Trainer is the most competent in emotional quotient (25 yr practitioner)
If you develop, incorporate EQ skills and competencies into your existing training curriculums
Ask About – Profiling Instruments for recruiting, promotions and/or leadership development
Educational Skill Development
Tactical EQ4 Electric Utilities (Basic Level I) Distraction Training
An introduction to emotional intelligence skills and abilities
Easy application models for daily disciplines (habit loop conditioning)
EQ Leadership Lessons:
Mental and emotional skills for the new paradigm – all the workforce gaps (age, skill level, communication ability, generations, personalities).  Emotional intelligence training is your competitive advantage in keeping top performance with long-term benefits to work / life balance.